Catering
Whether you're hosting a 30 person birthday party or 300 person wedding, wow your guests with a delicious charcuterie display.

STEP 1: CHOOSE CATERING OPTION
With a variety of options to choose from, there is a little bit of something for everyone and every occasion!

STEP 2: FILL OUT THE FORM
Next, you'll fill out the contact form so I have all of the information needed to get you booked quickly.

Finally, you'll receive an email from me either with additional questions or a proposal ready to sign and go!
Charcuterie For Every Occasion
Catering orders are perfect for groups of 30 people or more! All orders must be placed minimum 48 hours in advance. Boards, boxes and cups are able to be picked up or delivered, graze tables must be assembled onsite.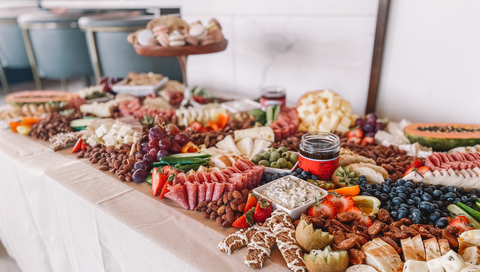 $15 per person. Minimum of 30 people.
Graze Table
Our stunning graze tables include an assortment of gourmet cheese, cured charcuterie meats, fresh fruit and vegetables, dips, olives and pickles, nuts, crackers, fresh bread and various accompaniments. Brunch graze tables are available at $15 per person.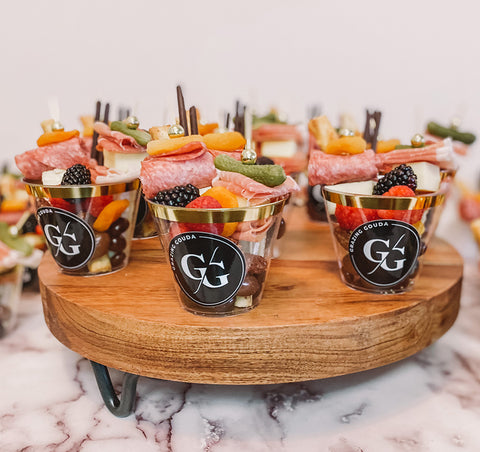 $12 each, minimum of 10 cups.
Charcuterie Cups
Our single-serve cups are the perfect handheld snack for your next board meeting or happy hour. Each cup includes three cheeses, two charcuterie meats, fresh and dried fruit, olives, nuts and chocolate covered items. Brunch or fruit and veggie cups also available.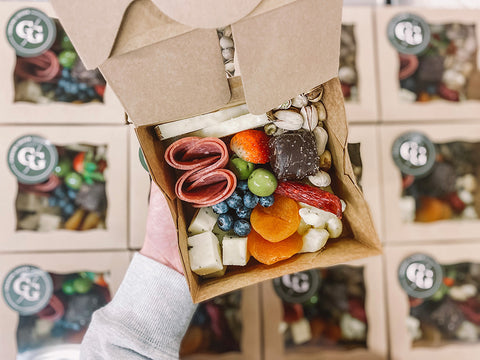 $15 each, minimum of 6 lunchables.
Adult Lunchables
Our single-serve adult lunchables are a great option for your next staff meeting or client appreciation gift. Each lunchable includes three cheeses, two charcuterie meats, fresh and dried fruit, olives and nuts. Brunch or fruit and veggie lunchables available.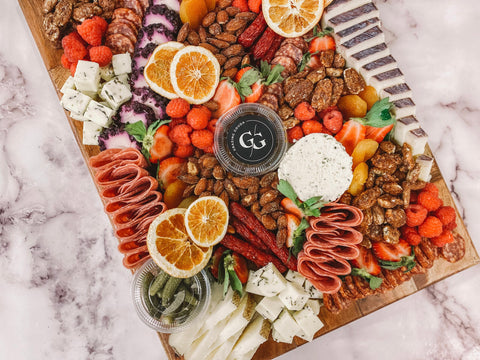 $55-120 per board
Boxes & Boards
Enjoy multiple charcuterie boxes or boards that can be easily transported to your next gathering. All offerings can be created as a classic meat and cheese charcuterie, fruit and veggie, fruit only, veggie only or a brunch spread.