Now accepting Christmas & New Years Eve Orders for Dec 23 and Dec 31 | PICK UP ONLY
LINCOLN NEBRASKA
Custom charcuterie arrangements for every occasion
Our custom boards, grazing tables, and seasonal charcuterie offerings are exactly what your special occasion needs.

We're a tight-knit team that's all about the personal touch. Our local roots mean we're here for you, always willing to go that extra mile.

We believe in doing things the right way, by the book. We've got all the licenses necessary for that extra layer of confidence.

Our commitment to quality is unwavering. We ensure that every order is handled with top-notch care, every single time.
Delicious Charcuterie Experiences
At Grazing Gouda, we believe moments turn into memories when friends and family gather together sharing laughter, conversation…and cheese of course!
Order Custom Charcuterie
Enjoy a custom arrangement for your next family gathering, holiday party, board meeting…or just to treat yourself!
Gift Cards & More
Give the gift of cheese – gift cards are redeemable for all charcuterie products, workshops and event catering.
Download Our Menu
Download our latest charcuterie menu for a wide range of delicious options to satisfy your taste buds.
Book a Workshop
Experience a 60 minute hands-on charcuterie workshop where you'll create and take home your own charcuterie masterpiece.
Wax Buffalo Winter Market
Saturday, Dec 2, 2023 | 11am-4pm
BUY TICKETS
This one-day German-inspired holiday festival experience is like no other in our Capital City. Mark your calendars, spread the cheer, and join us for a magical day while you shop and enjoy treats from 100+ Nebraska local vendors.
Roca Merry Farm Pop-up Market
Saturday, Dec 16, 2023 | 4-9pm
LEARN MORE
Local vendors will be showcasing their products and services. Come hungry for an adult lunchable to snack on while you shop!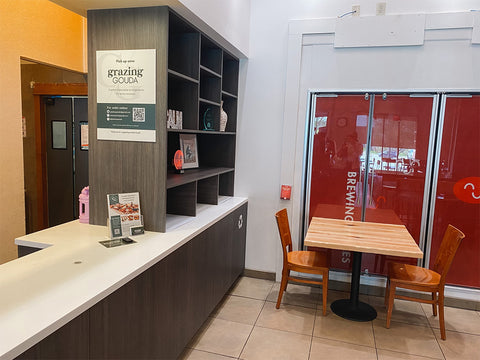 2901 S 84th St #1 & 2
Lincoln, NE 68506
Grazing Gouda is conveniently located inside Scooter's Coffee at 84th & Van Dorn Street. Grab & Go charcuterie is not currently available. All orders must be placed online 48 hours in advance.
Scooter's Coffee Hours
6am - 8pm Everyday
What Our Customers Are Saying
Created for community
Let our cheesy team do the work. We'll take the stress out of your upcoming date night, dinner party, wedding celebration or corporate event.
High quality ingredients guaranteed to impress your guests
Catering for corporate events and personal gatherings
Perfect 5 stars from every customer served
My passion started with a knack for entertaining, a love for celebrating with others, and a destiny for cheese.
Alexis Wingert, Founder of Grazing Gouda